APRIRSI is an ongoing collaborative project between IN THE NURSERY and research partners Professor Annalena Venneri & Dr Mike Shanks from The University of Sheffield using binaural recordings to create a serene sound space for people with dementia.
The composers are working with the academics to create immersive binaural recordings, based on research from the Department of Neuroscience, which can be used as auditory stimulation to relax, calm, reduce anxiety & agitation, and enhance cognition in patients with dementia.
The recordings feature various forms of audio stimuli and include experimentation with intensity, repetition and frequency.
---
Aprirsi news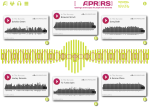 Aprirsi
April 9, 2015
APRIRSI is an ongoing collaboration between In The Nursery and academics from the Department of Neurology at the University of Sheffield.
There is an online resource where you can listen to the pieces (use headphones for optimum experience).
The first stage of the project was showcased as part of Festival Of The Mind 2014.
In The Nursery......