In The Nursery's music is featured in film, TV & trailers. See below for a selection of this work.
---
---
Film & TV news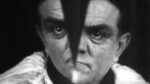 The Seashell and the Clergyman – ITN's new score
March 22, 2019
In The Nursery are pleased to announce details of their 9th Optical Music Score which will be for The Seashell & the Clergyman (la coquille et le clergyman).
Widely recognised as the first surrealist film, The Seashell and the Clergyman (1928) is a complex, controversial and multi-layered film directed by Germaine Dulac, from an original scenario......